February 2022 Bar Exam Jurisdiction Information
The jurisdictions listed below have made announcements about changes regarding the February 2022 bar exam. We will continue to update this page as we receive information from the jurisdictions. See our NCBE COVID-19 Updates page for more information about the coronavirus and NCBE exams and services. To contact a jurisdiction directly, see Jurisdiction Information. 
February 2022 Bar Exam Status by Jurisdiction
Map last updated January 10, 2022, 5:01 pm (CST)
The following map shows the current status of the February 2022 bar exam in each jurisdiction. Please see the list of jurisdiction announcements below the map for more detail. The same information shown in the map is also available in table format.
Note: NCBE and the jurisdictions continue to monitor the COVID-19 situation closely. While the information provided here is current as of the posting date, this information is subject to change due to evolving public health requirements. You are strongly advised to consult with the jurisdiction's bar admission agency directly for the most current information.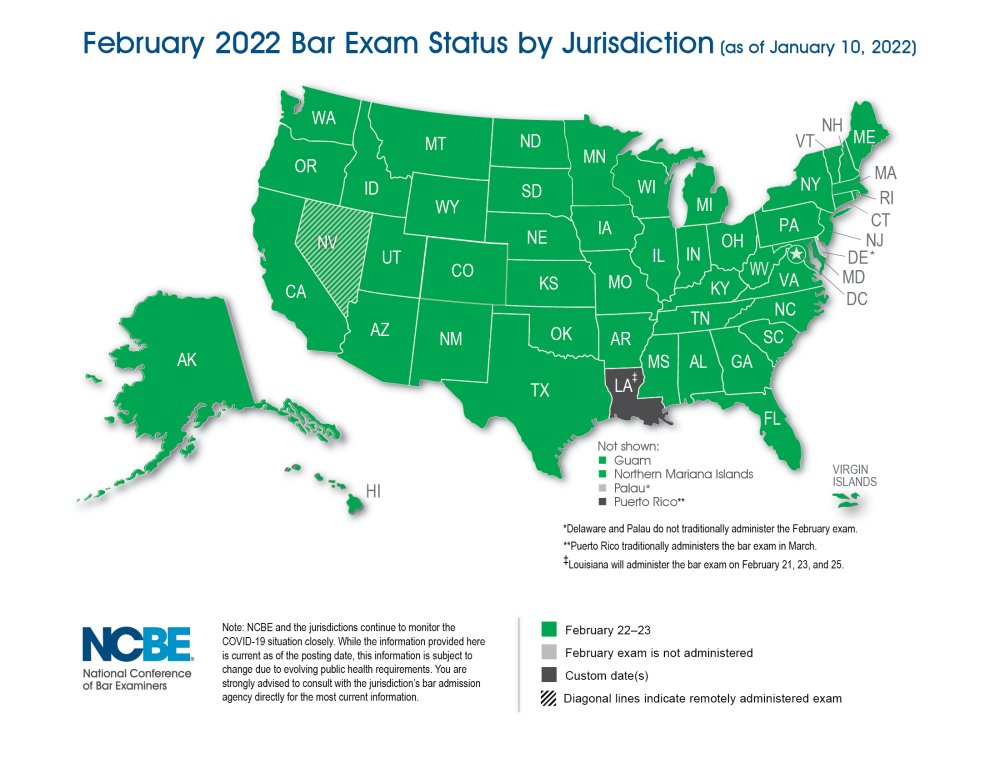 Jurisdiction Announcements in Alphabetical Order
Last updated January 24, 2022, 10:36 am (CST)
Nevada
On January 6, the State Bar of Nevada announced that the February 2022 bar exam will be administered remotely. The exam will consist of seven Nevada essay questions and two Nevada performance test questions. Applicants who signed up to handwrite the exam will be permitted to take the exam in person if they elect to do so.
Washington
The Supreme Court of Washington issued an order temporarily lowering the minimum passing score to 266 for the February 2022 exam.