Hon. Mary R. Russell Elected to the Board of Trustees of the National Conference of Bar Examiners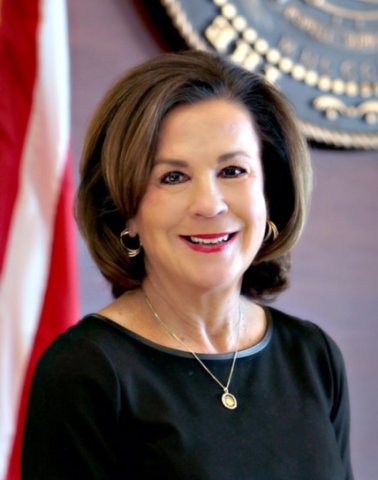 MADISON, WISCONSIN, October 19, 2023 — Hon. Mary R. Russell has been elected to the Board of Trustees of the National Conference of Bar Examiners (NCBE). NCBE develops the licensing tests used by most states for admission to the bar. 
Judge Russell is the Chief Justice of the Supreme Court of Missouri. First appointed to the Supreme Court in September 2004, she was retained in office in general elections in 2006 and 2018, and is currently serving her second two-year term as Chief Justice. Previously, she served as a judge on the Missouri Court of Appeals, Eastern District, from 1995 to 2004, and served as its chief judge from 1999 to 2000. Prior to joining the Court of Appeals, she was a partner at Clayton & Rhodes law office in Hannibal, Missouri. She is a member of numerous professional and civic organizations, and serves as a mentor and continuing legal education lecturer for members of the Missouri Bar and others. She has been a lecturer to University of Missouri School of Law classes and a speaker at its commencement ceremonies. She served three terms on the law school's Dean Search Committee and is a past member of the ABA's Council on Accreditation and Legal Education. The recipient of numerous awards, Judge Russell received the Honorable Theodore McMillian Judicial Excellence Award from the Missouri Bar in 2016 and was named one of Ingram's "50 Missourians You Should Know" in 2015. She holds a JD from the University of Missouri–Columbia School of Law and Bachelor of Arts and Bachelor of Science degrees from Truman State University.
About the National Conference of Bar Examiners
The National Conference of Bar Examiners (NCBE), headquartered in Madison, Wisconsin, is a not-for-profit corporation founded in 1931. NCBE promotes fairness, integrity, and best practices in bar admissions for the benefit and protection of the public, in pursuit of its vision of a competent, ethical, and diverse legal profession. Best known for developing bar exam content used by 54 US jurisdictions, NCBE serves admission authorities, courts, the legal education community, and candidates by providing high-quality assessment products, services, and research; character investigations; and informational and educational resources and programs. In 2026, NCBE will launch the next generation of the bar examination, ensuring that the exam continues to test the knowledge, skills, and abilities required for competent entry-level legal practice in a changing profession. For more information, visit the NCBE website at https://www.ncbex.org.